NEW! Ge Ge and Di Di's
Big Day with Elephant
(Traditional Chinese)
Ge Ge (Big Brother) and Di Di (Little Brother) have an unexpected visitor! Join Goh Goh and Dai Dai on their adventures around the house with Elephant.
Along the way, your child will have fun learning everyday dialog and household vocabulary. You'll visit the living room and kitchen, go outside to play, and go through dinner and bedtime routines. This Chinese-English book is available in Traditional and Simplified.
This adorable book has been kid-tested to help families have fun learning routine household words together!
A free audio recording is included.
ISBN: 978-0999273081
What people are saying

"This is an enjoyable book to read about two brothers and their elephant, and the adventures they had one day. It's great to have this kind of beginner level book that helps teach kids Chinese and English!
There are sentences that are broken down through a color code to show the Pinyin pronunciation along with the corresponding Chinese characters and English equivalents.
Additionally, there are also more vocabulary words to learn on the side where one can also look for the objects in the colorful illustrations. The book takes us through a whole day with the brothers and their elephant, and makes it fun to read and learn Chinese!"
Ge Ge and Di Di's Big Day with Elephant (Traditional Chinese)
– 5-star review on Amazon

"Fantastic Chinese/English book for children
With young kids learning Chinese as a 2nd language, we are always trying to find fun ways to incorporate Chinese into our everyday lives. This adorable book helps to establish a foundation of everyday activities in Chinese. Since we are not native Chinese speakers, having Pinyin, Chinese characters as well as English makes it easier for both of us to read with our elementary school kiddos.
The illustrations are colorful and beautiful and it's fantastic to have related vocabulary words on the side of the page. The style and set up of this book makes Chinese accessible and fun which is perfect for new learners.
We can't wait to read about more adventures of these brothers and their cute elephant friend."
Ge Ge and Di Di's Big Day with Elephant (Traditional Chinese)
– 5-star review on Amazon
Peek Inside the Book!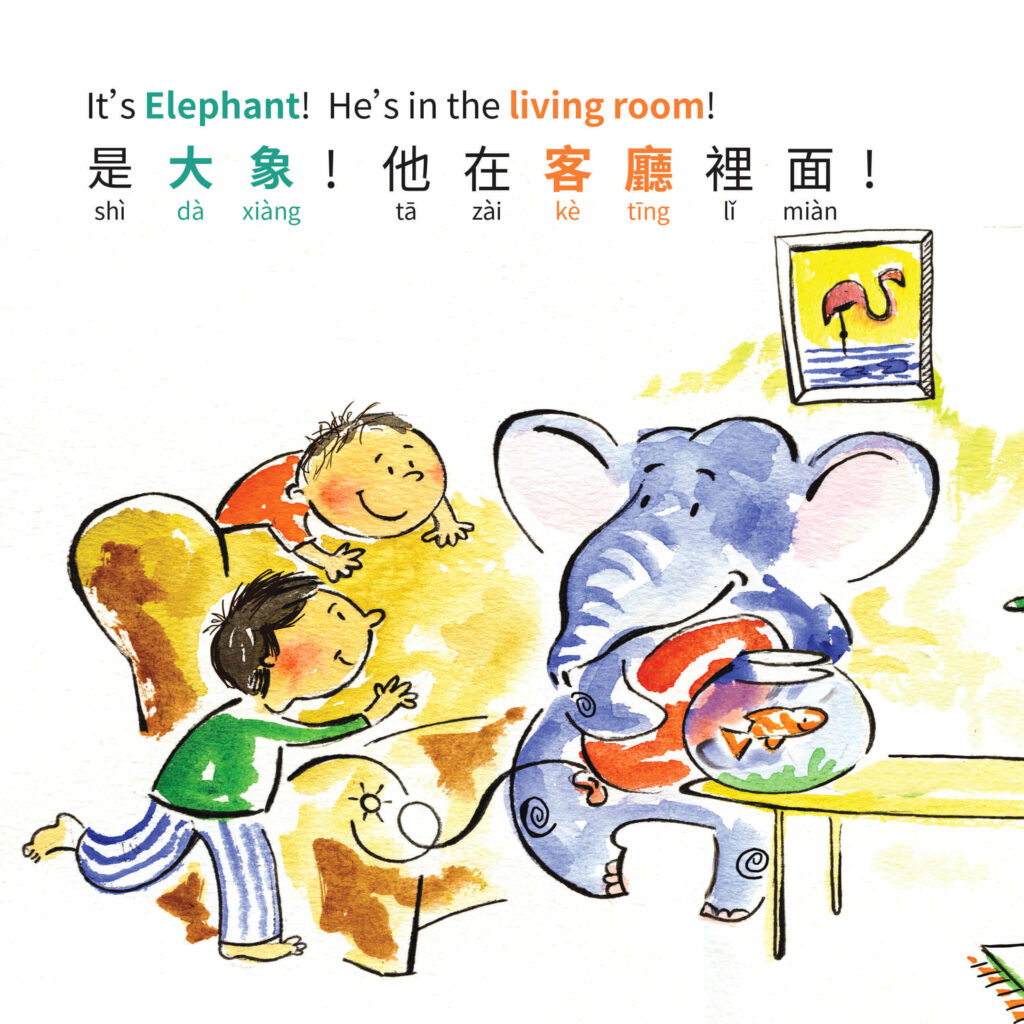 biliingual in Chinese & English
All phrases are focused on everyday communication with your toddler
Each word is written in traditional Chinese characters, pinyin and English.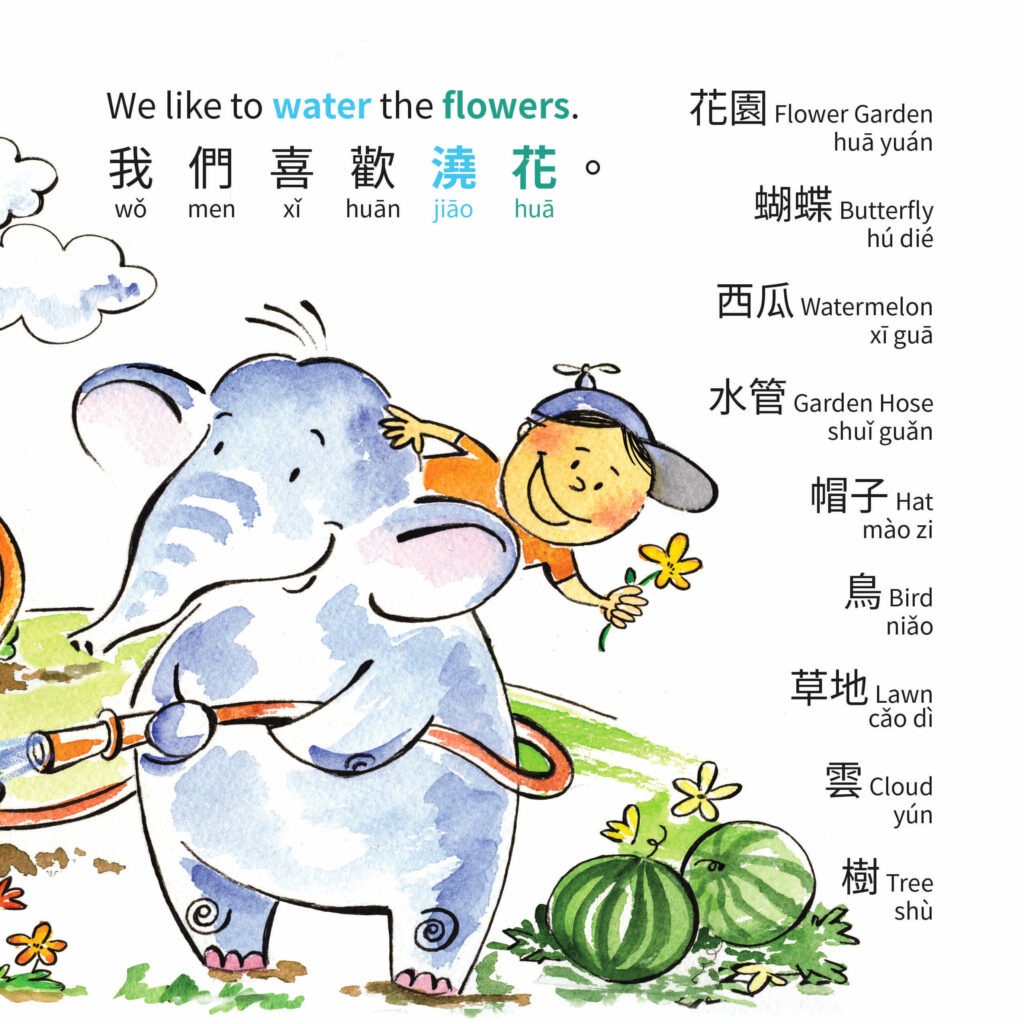 Point-and-Find as you read
Vocabulary lists let parents and children point-and-name items on the page together.
Key characters are color-coded to their English translations.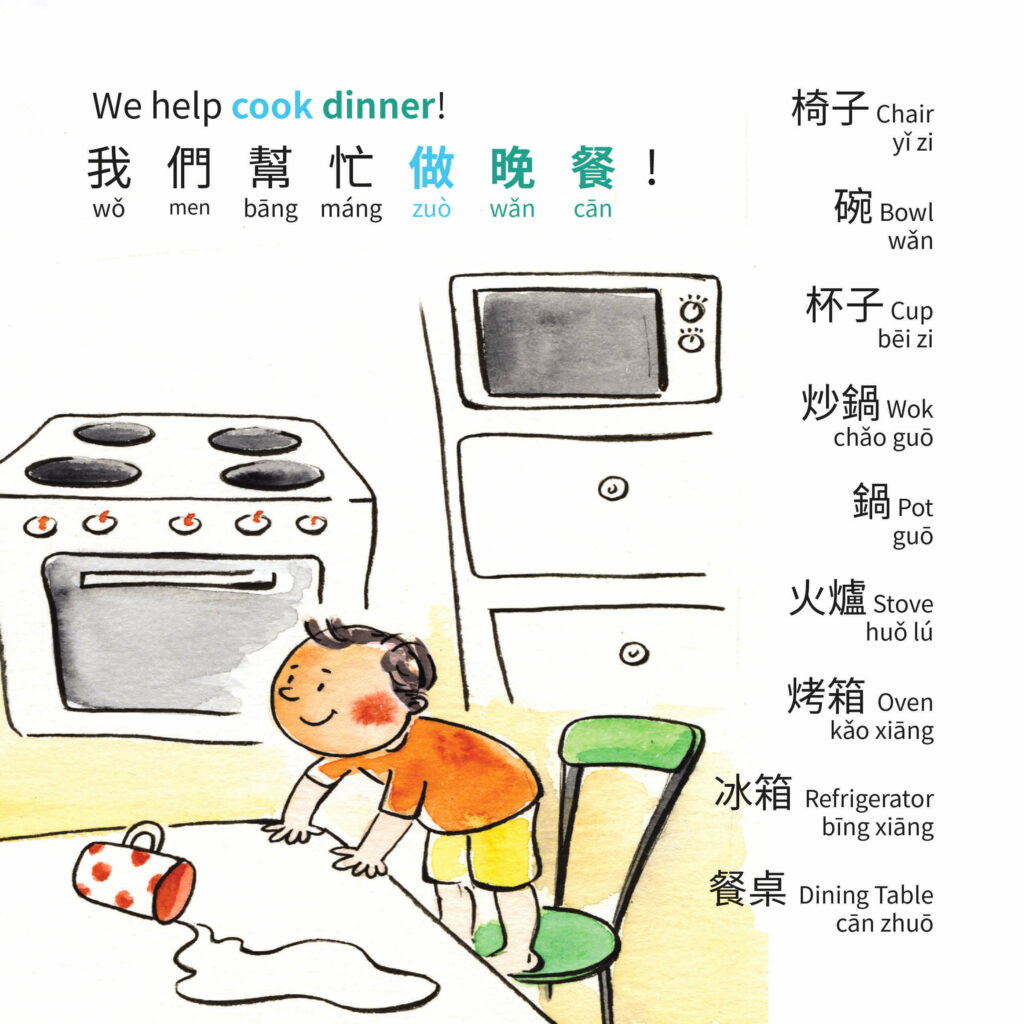 Tour the House
Learn basic vocabulary on a playdate around the house
Beautiful illustrations make learning fun!