My First Colors in Cantonese & English
My First Colors in Cantonese & English is unique in its focus on spoken Cantonese, not formal written Chinese. This book introduces Cantonese language and culture to preschool children, and is ideal for families who may not be fully fluent in spoken Cantonese or written Chinese.
Starting with "What is your favorite color?", this picture book is full of conversational questions, phrases and words. Your toddler will be introduced to Cantonese culture – including red-and-gold New Year decorations, white steamed bread and brown moon cakes. You'll also meet a purple seahorse, ask for a cyan pencil and show off a blue balloon. Introduces over 95 vocabulary words in a colorful, fun way.

Each phrase is written in traditional Chinese characters, Jyutping and alternate phonetic pronunciations, and English.
A free audio recording is included. 
ISBN: 978-0999273050
What people are saying

"Colors are vivid, pictures representing the words are excellent. Each picture with clear chinese character, english phonetics for pronunciation, and the english translation. Each page also has a short sentence like "The chair is yellow".
What surprised me most was the color coding of the sentences in Chinese and English to show the corresponding words given the different grammatical sentence structures.
If your kid is too young to read, it's an excellent picture book that they can grow into reading the words later too."
My First Colors in Cantonese & English
– 5-star review on Amazon

"This is another great book by the author on learning Cantonese for beginners and kids! Each color or color combination has its own 2-page spread filled with great photos and examples of that color.
So not only do you get to learn colors in Cantonese, but you also learn the words and a few other phrases of the associated objects of that color!
Overall, the layout of the photos in the book, the color schemes, and words and phrases are really well done. And it made it easy and fun to learn!"
My First Colors in Cantonese & English
– 5-star review on Amazon
Peek Inside the Book!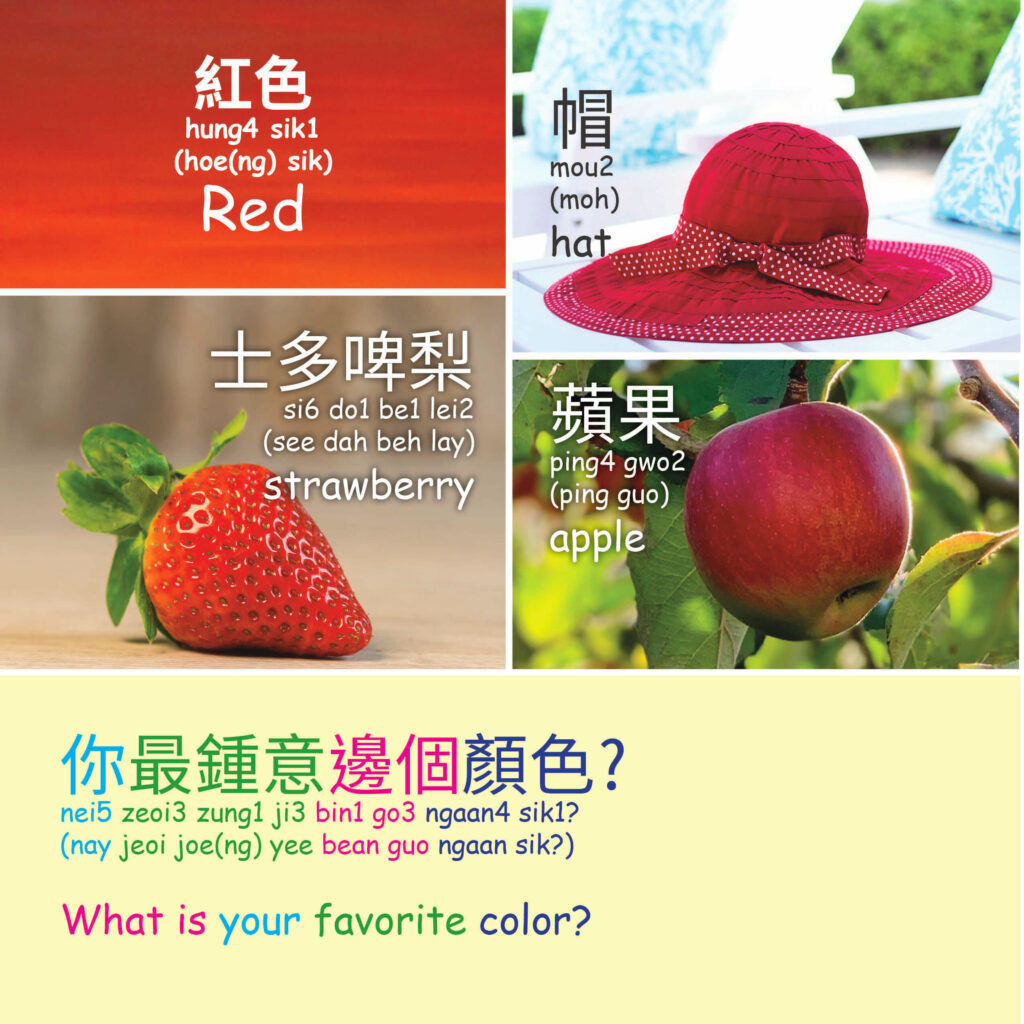 biliingual in Cantonese & English
All phrases are focused on everyday communication with your toddler
A free audio recording is included
Beautiful images make learning fun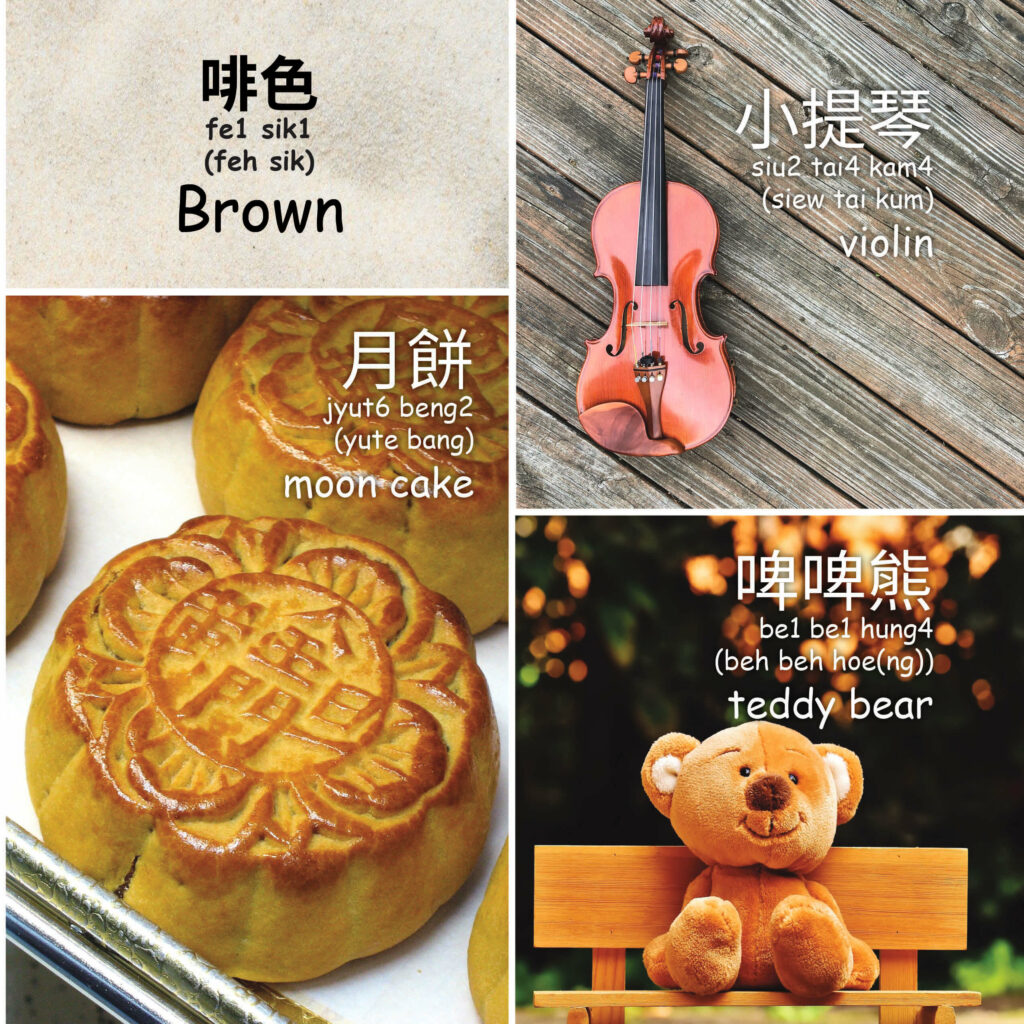 color-coded phrases
We introduce a small bite of Cantonese culture with your colors!
Phrases are color-coded to their English translations, making it easier for adults and kids to learn together
Traditional Chinese characters
Jyutping and an alternate phonetic pronunciation are included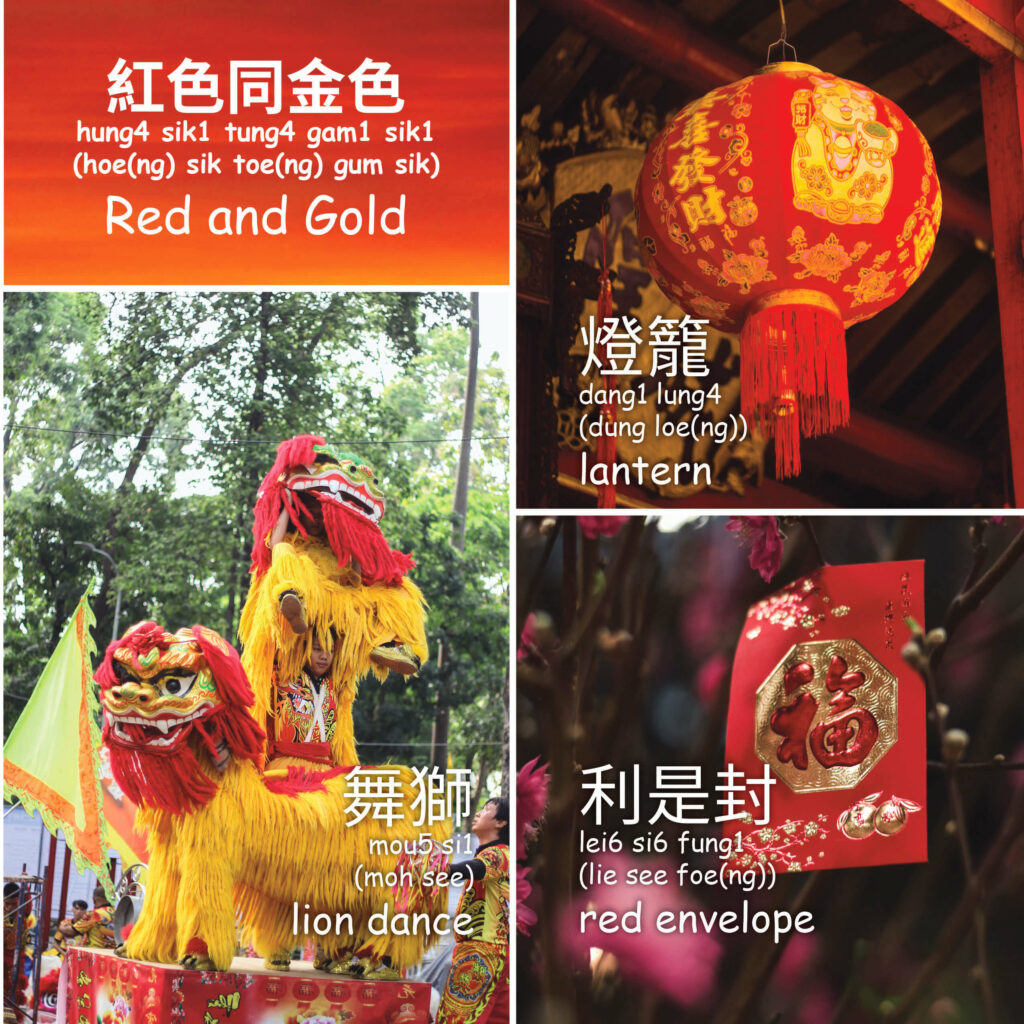 More than just the basics
Everyday life is colorful, and sometimes you just want to talk about more than one color.
We've got you covered! This book includes common color combinations – including black and white, red and gold, and more!