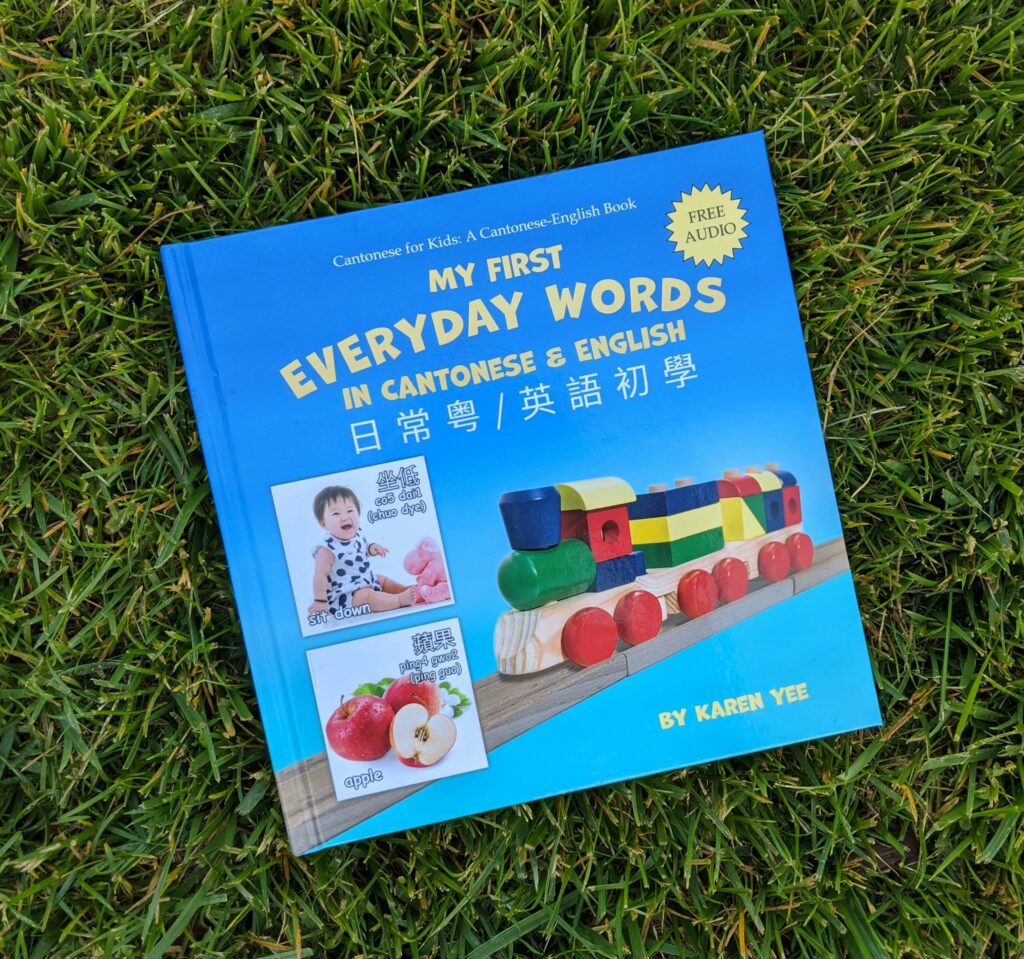 Welcome! My hope is to find others who are passionate about bilingual education and having more Cantonese learning materials, especially for children, and I hope my work plays even a tiny role in doing so. I'd love to find people to partner with and bounce ideas off.

So to start off my first blog post, I'll share a bit about how I started on this adventure of creating and publishing Cantonese-English picture books – for those who don't speak Cantonese or who can't read it!

I'd been working on this project off and on for the past many months. It started as a workaround because I can't read or write much Chinese. Then it grew into a project to help my husband learn and speak Cantonese to our toddler son. And finally, it turned into a book!
The thing about Chinese is that if you can't read it, it's very hard to fake it. Unlike English, you can't try to slowly sound your way through the letters – because Chinese uses characters, not letters. "If you try to speak Cantonese the way it's written in most books, it's incomprehensible."

I had actually searched everywhere for Cantonese books. I found a lot of books in Chinese and English; some books in Chinese and English with Mandarin pinyin; and some books in Chinese-English with the Taiwanese pronunciation system. But I found almost nothing that showed me how to pronounce Chinese characters the Cantonese way. That is, I found absolutely nothing that provided the colloquial Cantonese – instead of the formal written Chinese.

And reading most Chinese books out loud in Cantonese is not even close to speaking in Cantonese. If you try to speak Cantonese the way it's written in most books, it's incomprehensible. The closest analogy I can think of to English is that it would be like speaking the same way you would write a (very complex) legal document — very formal, and not something you're used to hearing.

So, with this in mind, I made my own printouts, starting with the things my son cares about the most: Animals. And then, because I love dim sum…and because dim sum is so key to Cantonese culture and cuisine, I printed out pictures of egg tarts, sesame balls and shrimp dumplings. And then pictures of lychees, persimmons, dragonfruit. And pictures of desserts like almond tofu, sesame paste and tong yuen.

And pretty soon after that, I decided to make the materials even more useful for my husband to learn Cantonese, by introducing a conversational element. I added phrases such as "What do you want to eat?" and "I want to eat…" – using the colloquial phrasing and not the formal written language.

Many months later, this is what turned into "My First Everyday Words in Cantonese & English". Now, what to work on next? Let me know if you have ideas!